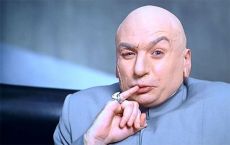 The "Blood Moon" is rising, as is our collective anxiety, and so is Donald Trump who has started an unexplainable movement across America, much to the dismay of Megyn Kelly and the rest of the liberal media. Oil prices are crashing, (at least it means lower gas prices at the pump for us), robots may well be taking over our jobs, driving our cars, flying our planes. Let us not forget the in upcoming election shenanigans that will take center stage in 2016 and all the allegations that will be revealed against whomever is left standing. WAIT, STOP! This all points to the conspiracy theorists running wild with their outlandish propositions and fear mongering ploys.
Yes, there have been times when I was younger that I too succumbed to their enticings, like the supposed end of the world in the year 2000. Wow, was I really sucked into that one believing that the world would just shut down. Of course it didn't. However, I have learned quite a bit about conspiracy theorist since that time. Also, we need to recognize how they can get into your head (if you let them). Interestingly, fifty percent (50%) of Americans believe in at least one (1) conspiracy theory, just saying.
Unless you operate in the world of psychology, you would not really be familiar with the term cognitive dissonance. It really fits in well as we discuss the psychological impact that conspiracy theories can have on our thought process. Let me break it down, you see cognitive dissonance is the scientific word that describes the internal discomfort that we experience when we are faced with two (2) or possibly more conflicting ideas, values, or beliefs. Does that make sense?
Ok, so let's apply this to conspiracy theories. We so desperately want to hold on to all our beliefs, even the attitudes that have shaped us throughout our lives. We want to avoid any and all pain and discomfort that any new idea, belief, or new evidence might yield like the ebola virus. So what do we do?  Too often, we buy the misinformation, believe the lies, and passively look pass the fraud. Why? It takes effort to question, research and really look, examine and dissect the evidence. It's just easier to buy into it…
I'm not really buying what he's selling, well then click HERE