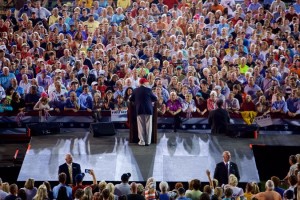 The political winds are in true hurricane form as the most electric personality we have ever seen (at least in my lifetime)  makes his entertaining bid for a presidential run in 2016. Whether you like him or hate him, there really doesn't seem to be a neutral position out there regarding the straight talking real estate magnate. His inflammatory remarks can make you cringe, roll your eyes, or maybe cause you to shout and clap your hands in agreement. To say that he is polarizing is quite true and possibly an understatement, just ask Megyn Kelly who needed to escape for ten days under the public backlash for her widely perceived attack on the billionaire during the first Fox News Presidential Debate.
I'm interested in the psychology behind the meteoric rise of this electric, outrageous, in your face, and get it done, "Alpha male" that drew twenty thousand people in Alabama last week? Is this what America has been craving, or is this a charade that  "the Donald" has masterfully crafted?  Of course, he's wealthy, has an ego that would be difficult to squeeze into a Boeing assembly plant, and the hair, well, let's not get off track. He is taking the United States by storm and the political establishment is pulling their hair out trying to figure out what to do about him.
The true "Alpha male" is clearly on display. His language is raw, uncensored, confrontational, and it is resonating with many in our society. What an entertaining time in politics for us to observe and understand the mentality of this unique warrior type that we have not seen since maybe the precarious Teddy Roosevelt.
Interested in more insight, read HERE