9 Ways Your Dog Knows you Better Than Anyone Else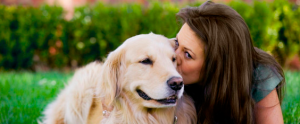 When I was in high school, I experienced my first real heartbreak. I was in the lowest of moods and moped around the house like a modern-day Eeyore. Everyone left me alone to "grieve" in peace — everyone, that is, except for my dog.
Sapp followed me around like a shadow as I sulked and quietly hid in my room to cry. He even resorted to sleeping on my pillow — right next to my face — that night. The next morning I was in better spirits (and so was he).
My story isn't uncommon. Pups really are a man's best friend — and there's research that backs this up. One study found that dogs can not only read our emotions, but they act accordingly based on how we're feeling. How's that for intuitive?
Below are nine other ways our furry friends understand and adapt to our complex personalities, effectively making us happier and healthier humans.