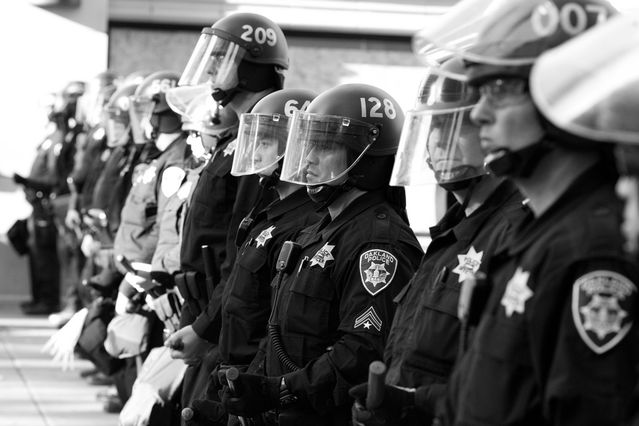 I was cruising thru Hulu a few nights ago and clicked on the CNN app, a video of a South Carolina high school incident grabbed my attention. I was drawn to it. To my shock and utter amazement, I witnessed  a police officer forcefully attempt to remove a female student from her desk, but in the process violently turned the desk over on top of her. He then proceeded to pull her out and continued beating her. This was all taking place as her classmates were watching (I'm guessing stunned, yet, some with their iphones catching it for posterity). What I also found distressing was that the principle and the student's teacher were watching from the sideline this incident taking place.
Compounding this horrendous and violent situation, the officer was white and the female student was black. The nature of how this started and escalated to this violent degree is really incomprehensible. However, CNN was helpful enough to replay it nine (9) times for me in a matter of two (2) minutes. I think the media is so savvy at fueling our emotions and raising our anxiety, I could feel my anxiety really increasing to a point that I had  to click away.
My point is that for an officer of the law to act in a manner that is so violent, atrocious, and really inhumane with very little provocation is unnerving. As a clinician, I immediately recognized an underlying mental health illness at play (of course, after I had calmed down). As this story gained national attention, it was revealed that this particular officer had two (2) previous violent incidents similar to this one. He was summarily put on leave and days later he has now been fired from the police force. I hope he gets help.
Trauma is not just confined to our brave and courageous men and women of the military, it is anyone who has suffered sexual or physical abuse, been in a serious accident, or life threatening situation. It is estimated that eight (8) million americans will experience PTSD at some point in their lives. Many law enforcement officers suffer in silence with PTSD, as they are the front lines of protecting and upholding the peace. They witness and experience horrible things in our society that impact them dramatically. This is not an excuse for bad behavior, however, it does warrant better understanding of what goes on..
Do you want to know more, read on HERE